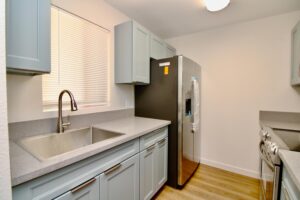 The Benefits of a Home Warranty for Buyers and Sellers
A home warranty is a service contract that covers the repair or replacement of important home system components and appliances that may break down over time. From heating and plumbing systems to washer and dryer units, these contracts can offer protection over and above homeowners' insurance. But what are the benefits for buyers and sellers? Let's delve into this:
For Buyers:
1. Peace of Mind: Buying a home is a significant investment, and the thought of having to pay for potential repairs can be daunting. A home warranty provides a safety net against unexpected and costly repairs, offering peace of mind to new homeowners.
2. Budget Protection: A home warranty can safeguard against unexpected expenses. Home repairs and replacements can run into hundreds or thousands of dollars. With a home warranty, for a nominal service fee and the annual premium, these costs can be covered.
3. Convenience: If something breaks down, you don't have to spend time searching for a contractor. The home warranty company has a network of service providers that they dispatch as needed, making the repair process simpler and more convenient for the homeowner.
For Sellers:
1. Competitive Edge: A home with a warranty is often more attractive to buyers as it provides them with a sense of security. It can set your property apart from others on the market, potentially leading to a faster sale at a better price.
2. Protection during Listing Period: Some home warranty companies provide coverage for the seller during the listing period, which can help protect the seller from having to pay out of pocket for repairs that may occur while the home is on the market.
3. Avoid Post-Sale Disputes: If a breakdown occurs after the sale, the buyer will contact the home warranty company, not the seller. This benefit can help avoid any post-sale disputes about who should pay for the repair.
In conclusion, a home warranty can be a valuable tool for both buyers and sellers. For buyers, it offers financial protection and convenience. For sellers, it can enhance marketability and reduce the risk of post-sale issues. However, like any contract, it's important to read and understand the terms of a home warranty. Not all items will be covered, and there may be caps on how much the warranty company will pay to replace or repair a given item. Be sure to do your due diligence to make sure a home warranty is the right choice for you.
Celester Thomas
Company Blog – Soldier to Soldier Hawaii Realty
Soldier to Soldier