Hilton Hawaiian Village Waikiki Beach Resort: A Seaside Oasis in the Heart of Waikiki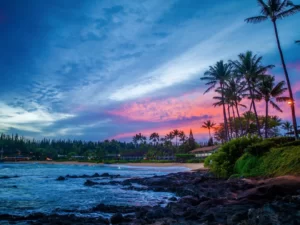 Situated on 22 lush acres, the Hilton Hawaiian Village Waikiki Beach Resort is not just a hotel, but a unique experience offering a harmonious blend of Hawaiian traditions and contemporary comforts.
Accommodations That Speak Elegance
Diverse Range of Rooms & Suites: From the iconic Rainbow Tower with its stunning murals to the exclusive Ali'i Tower, there's a space for every traveler.
Sweeping Views: Enjoy panoramic views of the Pacific Ocean, Diamond Head, and the Honolulu coastline.
Gastronomic Adventures
The resort hosts an eclectic mix of dining experiences:
Bali Steak & Seafood: An oceanfront setting serving up the finest steaks and seafood.
Tropics Bar & Grill: Relish Hawaiian comfort food in this beachfront eatery.
Recreation and Entertainment
With its sprawling grounds, there's never a dull moment at the Hilton Hawaiian Village:
Five Swimming Pools: Including the Waikiki's largest super pool and the multi-layered Ali'i Tower pool.
Cultural Activities: Delve into Hawaiian traditions with lei-making, hula lessons, and ukulele classes.
Friday Night Fireworks: A weekly spectacle that lights up the Waikiki sky.
Mandara Spa
Escape to the Mandara Spa, where Balinese traditions meet Hawaiian hospitality. Indulge in treatments that rejuvenate both the body and soul.
Host Your Events in Paradise
Whether it's a grand beachfront wedding or an important business convention, the resort's venues and impeccable service ensure an unforgettable event.
Guest Testimonials
For years, guests from around the world have sung praises of the resort's hospitality, amenities, and unique island charm.
---
In Conclusion
The Hilton Hawaiian Village Waikiki Beach Resort isn't just a place to stay; it's a destination in itself, offering a slice of paradise in the pulsating heart of Waikiki.
Celester Thomas
Company Blog – Soldier to Soldier Hawaii Realty